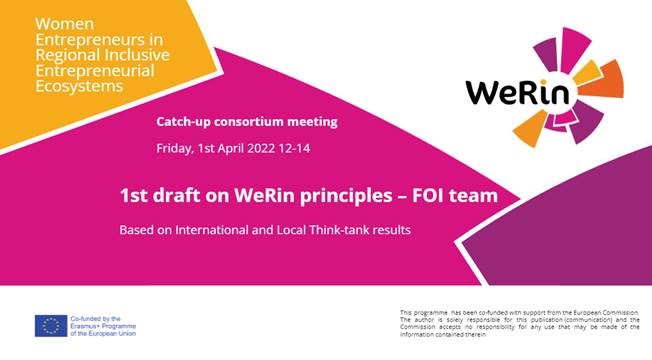 After the launch of the regional scans on International Women's Day on 8th March, 2022 (available here), the WeRin partners set about continuing their work on the Design and Deployment phase of the project. The WeRin research team, led by the University of Zagreb, Faculty of the Organization and Informatics with partners Amsterdam University of Applied Sciences, Istanbul Technical University, and Munster Technological University, are currently working on developing the WeRin Principles.
The WeRin Principles will be based on the regional Think Tank analysis and defined regional problems and needs of women entrepreneurship. The WeRin Principles present a starting point for additional project activities, the development of an innovative and inclusive learning approach for women entrepreneurship, and the conceptualization of the WeRLearnIn approach. A WeRIn Knowledge Port with educational resources and teaching and learning materials will also be created by the project partners. The WeRLearnIn approach will then follow in 2023 and will be free of charge for educators and managers of support programs that foster the embedding of women entrepreneurs into the local ecosystem.
In addition to WeRin, the University of Zagreb, Faculty of the Organization and Informatics is involved in other activities that indirectly enhance women's entrepreneurship. One of these initiatives is mapping the creative and cultural industries of Varaždin City and Varaždin County in Croatia. This industry has exceptional entrepreneurial potential, especially for women. As well as FOI, the initiative leader is People's Open University Varaždin, and the rest of the working group includes the Croatian cluster of competitiveness of creative and cultural industries, representatives of the academic community, Technology Park Varaždin, local development agencies, the Center for Youth P4, and entrepreneurs.
Their aim is to identify vulnerable groups in the cultural and creative industries (in general, by employment, grants, space, gender, ethnicity) and to identify which cultural and creative industries in Varaždin County are the most frequent, most efficient, most profitable, and most promising for further investment and development. The project outcome will be the development of a methodology for mapping creative and cultural industries and planning additional activities that will empower the development of this industry in the Varaždin area. The results will provide insight and guidelines for the development of education programs for (potential) entrepreneurs in cultural and creative industries. Numerous women operate in this industry, so its development will indirectly positively impact and empower women's entrepreneurship.