By Beatrice Bettarini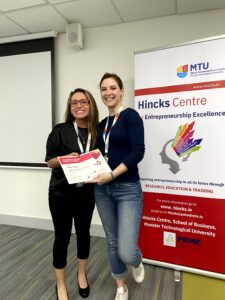 As the student ambassador for diversity and inclusion at the Faculty of Business and Economics at the Amsterdam University of Applied Sciences, I recently had the incredible opportunity to attend a training workshop at Munster Technological University in Cork, Ireland focused on equality, diversity, and inclusion, with a particular emphasis on women entrepreneurs. This experience left me feeling immensely grateful and inspired. Not only did I have the chance to interact with attendees from all over Europe, but we were also privileged to hear from esteemed guest speakers who shared their invaluable insights and experiences.
The workshop was hosted in the beautiful city of Cork, known for its vibrant culture and welcoming atmosphere. The event brought together a diverse group of individuals who were passionate about promoting equality and diversity in various professional fields. Connecting with like-minded individuals and exchanging ideas and perspectives was an enriching experience. One of the highlights of the workshop was the visit to the entrepreneurship incubator hub, the Rubicon based on campus. We had the opportunity to witness firsthand the innovation and creativity that thrives in this entrepreneurial ecosystem. The visit provided valuable insight into the challenges and opportunities faced by women in leadership roles within the business world. It was empowering to see women breaking barriers and significantly impacting their respective industries.
In addition to the visit to the Rubicon, the workshop offered a range of activities and opportunities to further enhance our learning and networking. The visit allowed us to gain a deeper understanding of Ireland's academic environment and the efforts to foster gender equality in education. Networking played a crucial role throughout the workshop, as we had the chance to connect with professionals, academics, and fellow students who share a common interest in promoting diversity and inclusion. The exchange of ideas and experiences during these networking sessions was invaluable. I formed connections that I believe will continue to nurture my personal and professional growth long after the workshop concluded.
What made this workshop truly remarkable was the dedication and expertise of the guest speakers. These accomplished individuals shared their personal journeys, the challenges they face, and the strategies they employ to overcome obstacles and succeed. Their stories were not only inspiring but also serve as a reminder of the progress that can be achieved when individuals are empowered to reach their full potential, regardless of their gender.
Reflecting on this experience, I cannot express enough gratitude for the opportunity to be part of such a transformative event. The workshop based on the WeRin Principles expanded my horizons, broadened my understanding of the challenges faced by women in entrepreneurship and leadership, and equipped me with the knowledge and motivation to actively contribute to creating a more inclusive and diverse society.
As I return to my studies, I carry with me a renewed sense of purpose and a deeper understanding of the importance of empowering women. I am excited to utilise the knowledge and experiences gained from this workshop to make a positive impact in my own community and beyond. In conclusion, attending the training workshop in Ireland was an experience that filled me with gratitude and inspiration. From the diverse attendees and insightful guest speakers to the immersive activities and networking opportunities, every aspect of this event contributed to my personal and professional growth. I am forever grateful for the chance to be a part of this transformative experience and will continue to champion equality, diversity, and inclusion throughout my journey.