By Tasha Day, UIIN  
The WeRin Regional Scan was an extensive research endeavour that took place across five participating regions: Zagreb, Croatia; North Rhine Westphalia-NRW, Germany; Cork, Ireland; Amsterdam Metropolitan Area, the Netherlands; and Istanbul, Turkey. The scan aimed to identify the current state of gender inclusivity in the entrepreneurial ecosystem of each region, including within academic and non-academic entrepreneurship education and support programmes.
The regional scans are intended to inform regional stakeholders about the current state of women's entrepreneurship in the region and provide a starting point for the development of potential interventions to improve this situation. The data from the regional scans was synthesised to uncover common challenges across Europe, which the WeRin consortium will now work together to find solutions for. The scan looked at the macro level, to uncover the structural state of women's entrepreneurship in the region, including national policies, strategies, and cultural and economic influences, combined with the characterisation of female entrepreneurs in the region. The meso level on the other hand looked at regional support policies, services, and initiatives.
The insights came from interviews with four different stakeholder groups from each region: entrepreneurship educators, students and alumni from entrepreneurship education programmes, female entrepreneurs embedded in the regional ecosystem, as well as entrepreneurship programme managers and other stakeholders in the ecosystem. Insights from the interviews were sorted according to criteria developed by project partner AUAS, whilst also allowing for novel themes to emerge from the data. Themes were based on the topics such as role models, offering of education and support programmes and gender stereotypes, amongst others. Insights As mentioned above, a synthesis of the issues identified from the scans was collated by project partner UIIN. Ten core themes pertaining to entrepreneurship education and support networks, as well as the wider ecosystem emerged from the data.
These issues give us an insight into the current state of the inclusivity of entrepreneurship ecosystems across Europe. Overarchingly, the extent and depth of lived and structural inequalities still exist throughout the continent are striking, and there is a lot of work to be done to dismantle these inequalities. Each of the five regional scans, as well as the synthesis of commonalities, was presented by project partners at the WeRin International Think Tank on 18th October. The outcomes and synthesis of the regional scans were also used to inform discussion at the five WeRin Regional Think Tanks which took place in November/December 2021. Ultimately, these results will feed into the knowledge creation stage of the WeRin project, as well as the WeRLearnIn approach and guiding principles.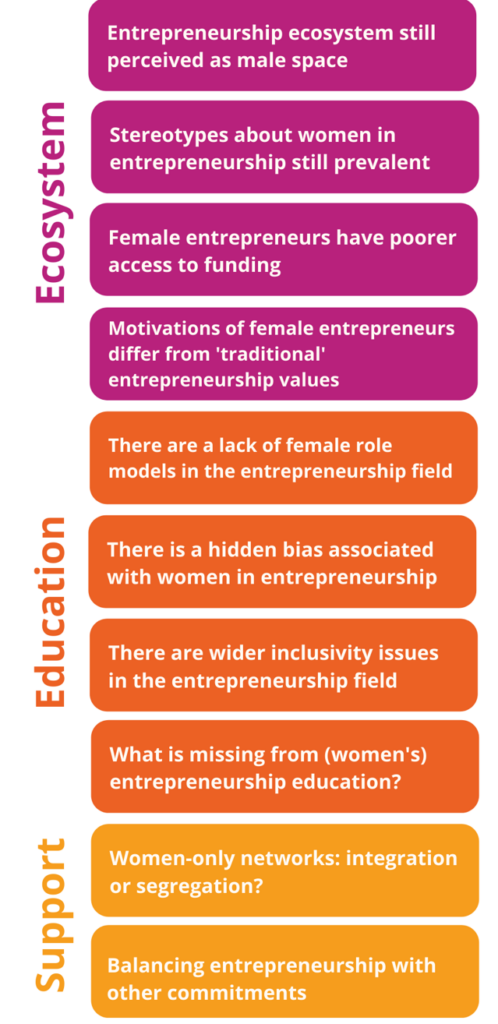 A lack of relevant female role models 
A lack of relevant female role models was a common issue across the regions. Case studies used in entrepreneurship classes overwhelmingly relate to male-owned businesses, and guest speakers tend more often than not to be men as well. Educators and programme leaders discussed how much more difficult it was to find female guest speakers, due to their lack of visibility in the ecosystem. Interviewees stressed that, though certainly important, it should not only be a case of showcasing female role models but rather showcasing relevant, relatable and perhaps local entrepreneurs whom aspiring entrepreneurs can look up to as an achievable goal.
Perhaps unsurprisingly, out of all of the groups, female entrepreneurs were best able to identify other female entrepreneurs in the ecosystem, whom they thought of as role models. In the future then, it would make sense for educators to look into women's entrepreneurship networks and ask female entrepreneurs themselves whom, including themselves if relevant, they think would be relevant guest speakers.
Hidden bias 
Another overarching theme was hidden bias. The inequality and bias that women face in entrepreneurship often goes unnoticed or at least is not considered as a problem by many ecosystem actors. It is a complex issue; educators, for example, might perceive that they treat all their students the same, regardless of gender, but at the same time they may spend more time on or reward students who are more vocal and confident, traits that tend to be more associated with men in entrepreneurship education. In this way, educators may be giving women in entrepreneurship class less attention and support, without realising it. The hidden nature of this bias means that it is swept under the rug and left unaddressed in many cases.
Many thanks to project partners Amsterdam University of Applied Sciences (AUAS), Accreditation Council for Entrepreneurial and Engaged Universities (ACEEU), Munster Technological University (MTU), University of Zagreb (UniZG) and Istanbul Technical University (ITU) for collecting all this valuable data that will be used to inform practice throughout the duration of the WeRin project.